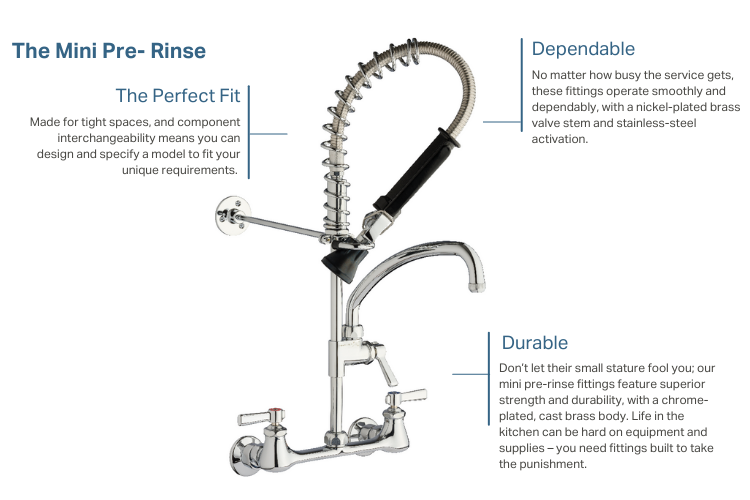 Meet The Mini Pre-Rinse – Maximum Performance For Minimum Space
The new, compact pre-rinse fittings from Chicago Faucets are built to stand up to the daily grind and work fast, helping you keep equipment, dishes, and utensils clean so you can focus on serving your customers – even on your busiest days!
Plus, The Mini has your back with a flow rate of 1.0 GPM for water and energy savings.
Minimum Size and Maximum Savings:
Chicago Faucets pre-rinse sprays have been specifically designed to save time and substantially reduce energy and water costs for restaurants, commercial kitchens, and institutions.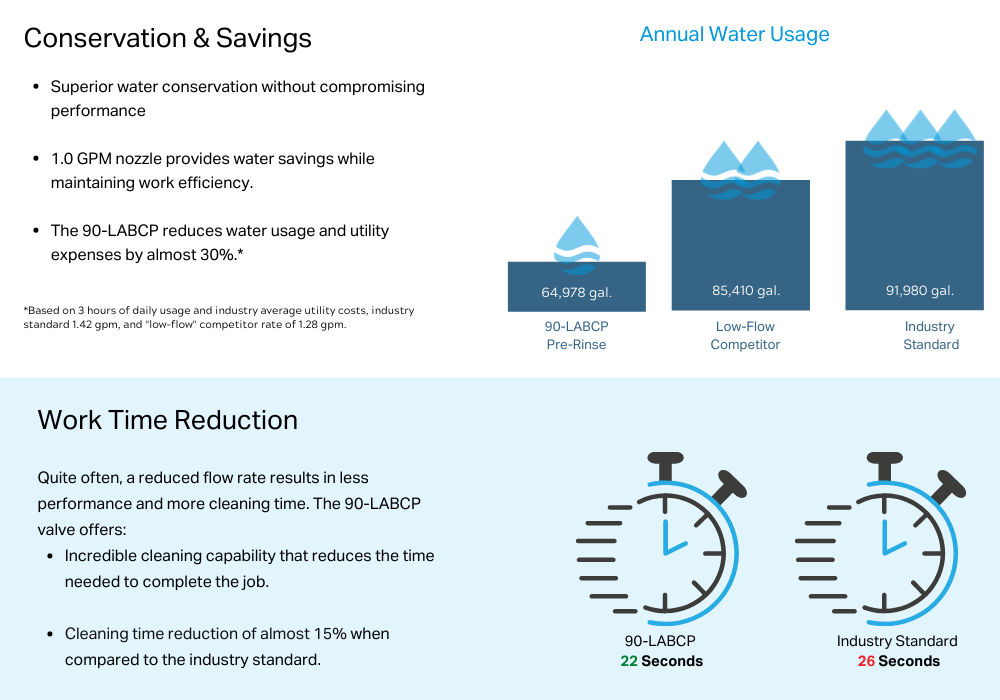 The Perfect Fit For Any Size Kitchen:
The Mini is made for tight spaces, and component interchangeability means you can design and specify a model to fit your unique requirements.
Rugged Durability for Restaurants and Food Service Areas:
Life in the kitchen can be hard on equipment and supplies – you need fittings built to take the punishment.

Don't let their small stature fool you. Our mini pre-rinse fittings feature superior strength and durability, with a chrome-plated, cast brass body.

No matter how busy the service gets, these fittings operate smoothly and dependably, with a nickel-plated brass valve stem and stainless-steel activation.
Chicago Faucets Brand Promise:
120 years of unsurpassed quality and durability; we back up this reputation with the industry's best warranty of 5 years.
A Versatile Pre-Rinse Selection to Meet Your Needs
Our mini pre-rinse fittings are available in deck- or wall-mounted configurations, allowing you to select the perfect model for your requirements. You can even change out components like handles, outlets, and supply arms for the ultimate custom fit. Best of all, these fittings are built for the long haul and will stand up to years of use.
But if if you need to, servicing our mini pre-rinse fittings is easy – swap out the nozzle and bumper in a matter of minutes and get back to business.
Not ready to chat? Download some materials instead.